Ridvan Aydinli
raydinli@wesleyan.edu
Grant Cook
gcook@wesleyan.edu
Garrett Brenton Groesbeck
ggroesbeck@wesleyan.edu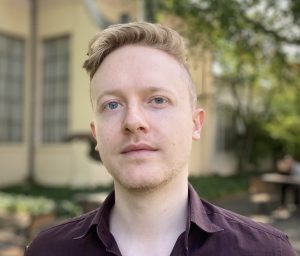 Garrett Groesbeck is a koto performer, ethnomusicologist, and composer currently pursuing graduate research at Wesleyan University. He has performed koto music worldwide and coordinated Japanese cultural events for a variety of educational institutions. From 2014-17 he was a Ministry of Education scholar at Nagoya College of Music, where he earned his MA in composition and theory. Research interests include the Japanese music education system, transmission of the koto in the twenty-first century, and Japanese cultural identity.
Devanney Turpin Haruta
dharuta@wesleyan.edu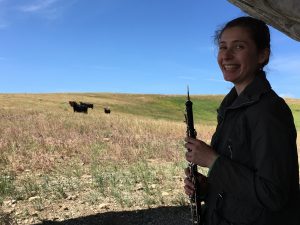 Devanney Haruta is in the Ethnomusicology M.A. program at Wesleyan, focusing her research in organology and instrument studies. She earned an A.B. in both Music and Math from Brown University, where she wrote an honors thesis that explored the player piano in early 20th-century domestic America. She has performed as an oboist with chamber and large ensembles, and is currently an amateur recorder player. At Wesleyan, Devanney has performed with the Javanese Gamelan, Taiko, Collegium Musicum, and New Music Ensemble. Passionate about bringing music to public audiences, she has worked for non-profit arts organizations such as Tippet Rise in Fishtail, Montana and All Classical in Portland, Oregon.

Mohammad Geldi Nejad
mgeldinejad@wesleyan.edu
Ethan Schwartz
elschwartz@wesleyan.edu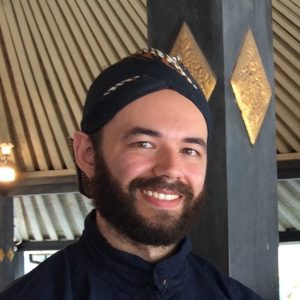 Ethan Schwartz is a multi-instrumentalist focusing on the theory and practice of Central Javanese gamelan. From 2015-2020, he studied at the Indonesian Institute of the Arts in Yogyakarta. Ethan is also an experienced performer of carillon, American old-time, and Arab orchestral music.

Briele Scott
bscott@wesleyan.edu